Christmas email signatures are one of the most popular seasonal signatures. Nothing strange here, the holiday mood starts well before actual Christmas date. And because your email signature is the beating heart of your professional correspondence, holidays are the perfect moment to refresh your email signature design.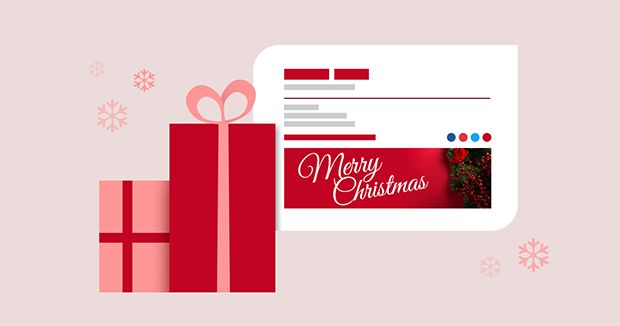 There is not much time left before the big date, so if you too want to send great Christmas-themed emails, you have to finish your signature project real quick. Let me show you how to design your perfect Christmas email signature, quickly and easily.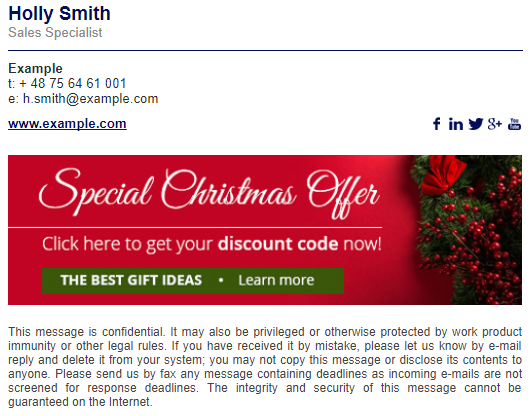 Christmas email signature design
You do not have to be a Christian to take this holiday into account. Remember, many companies launch their Christmas campaigns, and you could fall behind the competition. That is why the first question you have to ask yourself is: what is my company planning for this time of year? Think about discounts, new products, special services, and working hours. The email signature can include all that info and display it every time you send a message to your clients and partners.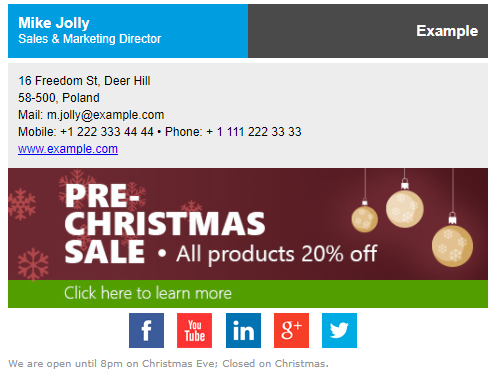 In fact, designing good Christmas email signatures is not that complicated. Changing your email banner in most cases is enough to give your messages "this special something." Above, you can see a good example of an email signature banner design. While you can feel the Christmas spirit in it, it is not too excessive.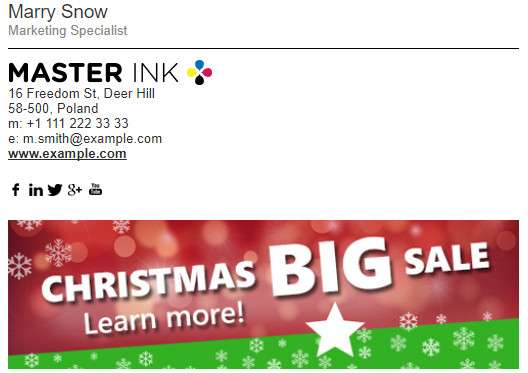 Christmas email signature ideas
Red and green are the colors which automatically make you think of Christmas (or traffic lights). But instead of designing an email signature like all the others, you can show some creativity. For example, you could use burgundy – while it is theme-compliant, it seems more elegant and exquisite. Also, remember that Santa and his reindeers or gift boxes are not the only graphical elements that bring Christmas to mind. All kinds of ornaments will give your graphical designer more options and increase your chances of a unique email signature that will be remembered. Sometimes, a simple detail is enough to completely change your signature

But maybe your design does not look very well on mobiles, or there is some other problem with it? You can use this opportunity to fix all your signature issues. Here is how to design a perfect HTML email signature with no HTML or CSS knowledge.
Compose your Christmas signature in no time
It is not too late to make your own Christmas signature! The problem is that preparing your HTML signature from scratch could be challenging and might take some time. You can make it extra quick with our help. Use our free signature templates or free signature generator. All you have to do is to throw some holiday sprinkle on your banner and add it to one of our designs. With our help, you will add your Christmas email signatures in no time, without worrying about coding.
How to create Christmas email signatures with CodeTwo Email Signatures 365?
How to make images display correctly in email signatures (not as attachments)