Microsoft 365 lets you set up email signatures and disclaimers for the entire company. The setup process includes the native mail-flow rule mechanism and the Append Disclaimer option. As a result, your company can centrally manage message footers, legal disclaimers, and email signatures in Microsoft 365. The problem is, the process includes a few steps which aren't exactly intuitive if you are setting them up for the first time.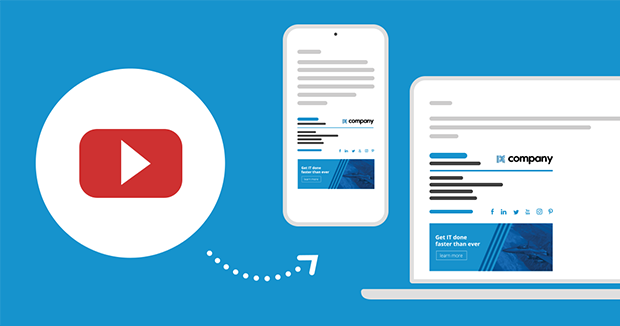 That's why we've created a step-by step video guide, which shows you how to easily set up email signatures in the new Exchange admin center.
And if you'd like to learn more about central management of email signatures in Microsoft 365, read on.
How does it work?
Mail flow rules used to set up an organization-wide email signatures are applied to messages when they are sent from your Microsoft 365 organization. Here's how it works in practice:
A Microsoft 365 admin sets up the email signature rule in the Exchange admin center.
Users send emails, but they do not see any signatures in their email client.
Exchange Online adds the signatures to the bottom of each email sent, substituting AD placeholders with the user's personal data.
The recipient gets the email with the signature applied.
The video shows how to add a unified email signature to all emails, but you can adapt the solution to your needs. Since mail flow rules include many different conditions and exceptions, you can use them to create different signature templates for various teams or even specific users.
Why manage email signatures centrally?
So, how is this better than letting users set up email signatures on their own?
Building and promoting your brand is a continuous process. Each interaction with your customers, leads or partners is an opportunity to promote your products and services or simply make a good impression. Unifying your email signatures helps you make sure that no such opportunity is lost due to user carelessness or lack of technical skills.
Learn more about the potential of your email signatures
Unless you leave the management of email signatures to your Marketing or Communications Team, you will not achieve consistent results. Some users will stray from the template you provide, while others will not set up the signature at all. There will also be those who encounter various technical problems during setup.
And even if all users manage to create their email signatures successfully, they will remain in charge of keeping everything up to date and updating them whenever needed. As a result, manual email signature setup becomes a major, extremely time-consuming distraction. Learn more
Managing email signatures in Microsoft 365 centrally allows you to turn every user into a brand ambassador. It also allows you to automate a rather uninteresting task, letting your employees focus on their own work instead.
The limitations of Microsoft 365 mail flow rules
Using mail flow rules to manage email signatures and disclaimers is better than letting users handle them on their own. The problem is, using mail flow rules to manage email signatures is not the perfect solution. There are numerous limitations of this native mechanism, for example:
Embedded images cannot be added to the signatures. This means that most recipients will not see any graphics when they first open your emails.
Signatures cannot be placed directly under the latest replies and forwards. They are applied at the very bottom of the conversation, which often renders them useless in longer email threads.
Users cannot see their signatures and disclaimers before they send their emails or in their Sent Items folders.
Outdated or empty AD fields cannot be replaced or omitted. As a result, if a user doesn't have some attributes assigned, it is impossible to use a default value instead or remove the signaling phrase.
Read more about those limitations
How to overcome native limitations
You can overcome the native Microsoft 365 limitations and do much more by managing your email signatures via a dedicated service such as CodeTwo Email Signatures 365. See the product's page to learn more and test the service for free or watch this short video to learn why companies choose our software:
See also: