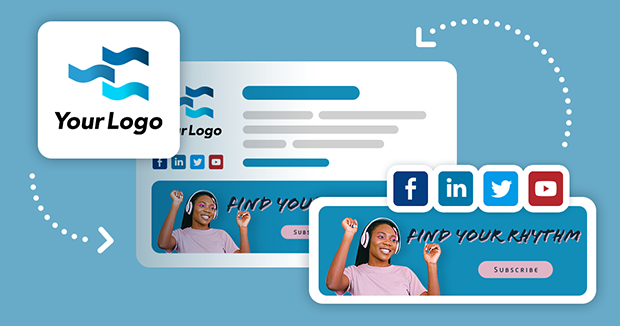 Email signature branding – the thing that gets your company emails to send the message you want them to send. Couldn't care less? Read on to learn why you should care a lot, especially if you have anything to do with marketing.
What is email signature branding?
Email signature branding is about using your email communication in such a way that each of your messages shows that you care. After all, building and boosting your brand is all about sending a certain message. It's a part of your marketing strategy you should care about – despite multiple prophecies, email communication is still widely used. Each time one of those millions of emails reaches your recipients, you leave some kind of impression. Each time an email is stamped with a nice, well-formatted signature, a client thinks a bit higher of you. And when there is a problem with email formatting, you send outdated contact info, or a poorly-crafted hand-made signature, your brand takes a hit.
Death of a brand isn't spectacular or sudden – it's sad and quiet, and painfully slow.
This one tiny element on the very end of your email you might think everyone ignores, a signature, often decides whether your emails build customer trust or cause a heavy cringe.
REMEMBER: Thinking of email signature branding as a panacea for all possible brand problems is not the way to go. For a brand to truly succeed, you need to ensure professionalism in all business aspects. Email signature branding is incredibly interesting because, on the one hand, it can be extremely easy to manage. On the other hand, there're a lot of ways where it can go wrong.
Good email signature branding example
Before we get into the list of possible signature troubles, here's an example of a well-branded email signature.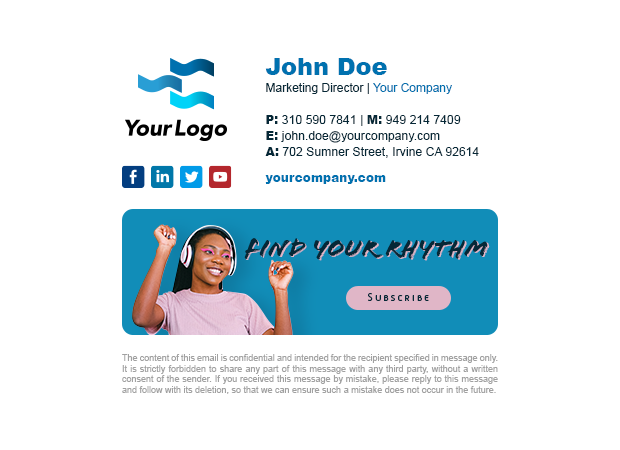 Clean layout, nice colors, all the information a client might need. You get the idea.
Get more ideas and email signature branding guidelines
Most popular email signature problems
No email signature
Theoretically, it's no big deal – you don't really gain anything, but at least it's not a broken email signature.
The problem is, without a signature, your emails are generic, rarely leave any lasting impression and give the feeling of talking to a bot. Each email sent is an opportunity you lose. You need to decide whether you can afford losing marketing opportunities every single day.
Broken email signature
You might not realize this but breaking an email signature design is very easy.
Most noteworthy email signatures are built in HTML. The problem is email clients are not the same as browsers – some add their own formatting to all elements, others interpret code in their own unique way. Some still don't support HTML, so they simply ignore all images and formatting.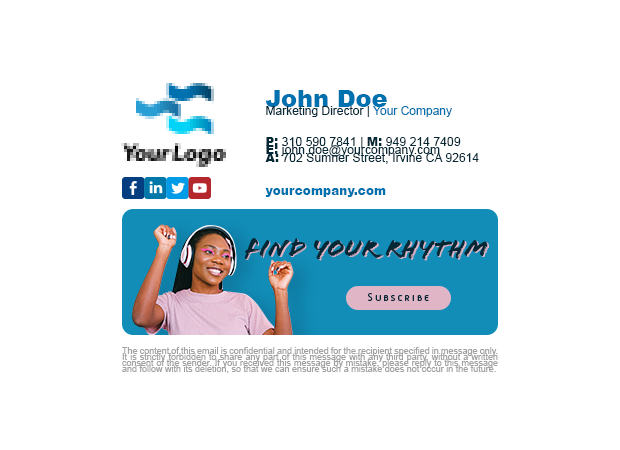 The effects can take your breath away.
Unprofessional elements
Leaving email signature branding to end-users often results in some interesting elements reaching your customers. Examples:
"Hasta la vista baby" as a favorite quote under each email.
Señor Party Pooper or another "hilarious" job title.
Links to various websites. It's bad even when it's not NSFW content.
Disclaimers parodies. (Like "If you read this email, I own you and everything you have". Yup, I've seen those.)
I'm all about a good sense of humor but not in professional communication. It might be funny to someone the first time they see it, but the second time you'll get more cringes than smirks. And when it comes to disclaimers, they are still required in some cases, so it's risky to replace them with some funny stuff.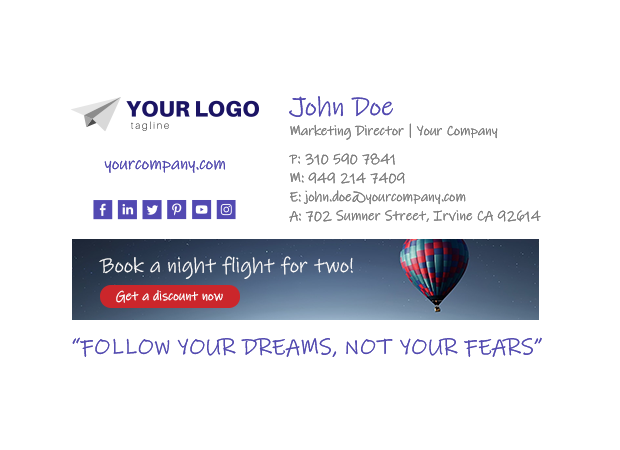 Believe me, it's better to leave email signature branding to your Marketing Team.
Everyone sends whatever they want
Branding is about trust. If you contact a company and every time you get a different experience, both when it comes to quality and visual experience, something feels wrong. No self-respecting brand wants that.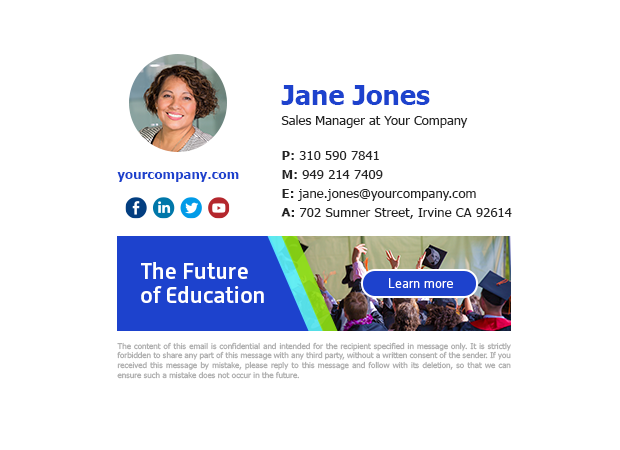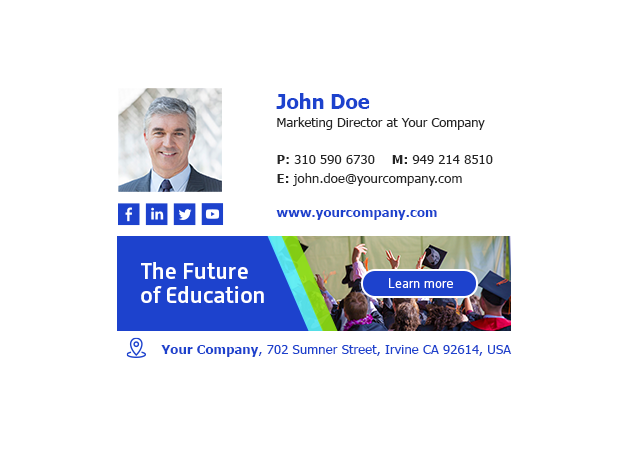 Ways to handle email signature branding
No management
The saddest option. A must-have for companies that think of email signatures as those annoying thingies nobody ever looks at. Or for pure B2C companies who think that email is passe.
Pros
Less things to worry about.
Could work if you have employees who care. A lot.
Makes a lot of sense if you're not using email. We've heard about such mythic creatures.
Cons
Honestly? It. doesn't. work. It's leaving an important company asset in the hands of a deity of your choice.
Email signature branding policy
The policy method means that you write down what you expect of users in terms of email signatures. This option is a great unknown. It all depends on how you execute the policy, whether it contains all required information, how it's written, what email clients are used and so on. It also depends heavily on whether employees care and have the skill to do everything you tell them to.
Pros
A low-cost solution, especially if you don't count time as cost.
Cons
Writing down a good policy requires a lot of work.
Executing the policy requires even more work.
Lots of variables.
Manual email signature management
This one is interesting. In short, manual email signature management means that you get someone to set email signatures up for everyone. The politically correct term is delegation. In the old days, when people believed that IT only sits in the basement and watches as those LED lights blink, companies thought it's a great idea to send the IT squad to set up email signatures for everyone. Nowadays, some of it can be done remotely, after getting IT and users to decide on a meeting time, or by breaking into users' accounts.
It's a bit like you've heard the word "management" but didn't quite get what it means.
Pros
It's "free" and gives IT something to do.
You can count on IT to set it up right.
If the company doesn't hire new employees, IT prays hard enough, and Marketing sleeps long enough, it will work and won't require IT to repeat the process too often.
Cons
Those printers will probably need to fix themselves.
Nothing stops employees from removing or changing the signature the second IT leaves the room.
High IT turnover rate.
"I can do it meself" management
There are some DIY methods that let you manage email signatures for everyone without having to move as much as with the manual email signature management I mentioned above.
For example, there are scripts that set up email signatures for everyone in some email clients. Or there are ways to add an email signature automatically after an email is sent (e.g. Set up company-wide email signatures in Microsoft 365). Those methods ensure that each email is stamped with the signature template you set up, but are not limitation-free.
Pros
They usually work.
Require less time to configure.
Cons
Each environment requires a different method.
Needs an expert and IT-Marketing cooperation to set up and maintain.
True email signature management
Finally, there are tools that let you manage email signature branding the right way.
Signature managers usually let you control branding for all email communication from one place. The most popular approach works like that:
IT sets up the technical stuff (permissions, connectors, all the other technical whatnots).
Marketing sets up a signature design in a manner of minutes – could be one for the whole company.
Everyone magically gets email signatures with their own contact details. They don't even have to do anything – it's all automatic and works with all email clients and devices.
Pros
Central management of email signature branding – from one place, for the whole company.
Easy email signature marketing – promoting your offers with each email sent.
Additional features (depending on the exact solution).
Huge savings in time and resources.
Cons
Cost (remember not to count the time you save and leads you earn).
Best email signature branding tools
One of the easiest ways to create a professional email signature design for a single person. You follow a few easy steps to create your own branded email signature and apply it manually in any email client. Makes it much easier to get a well-formatted, professional HTML email signature design.
It's not a tool that offers email signature management, but it makes email signature branding a lot easier.
Perfect solution for organizations using Microsoft 365. Here's what it can do:
After initial setup, IT is out of the picture – Marketing can go wild on creating email signature designs.
Automatically add signatures to all emails – regardless of which email client people send emails with.
Ensure professional email signature branding for every team.
Link to your social media profiles or landing pages from every external email.
Get email signature marketing campaigns running in a manner of minutes.
Look at the video below to see why it's a good idea to manage email signatures with CodeTwo.
Still not convinced? 9 out of 10 marketers* guarantee that when faced with good branding, clients behave something like this:
*And one of those 10 marketers recently got fired.