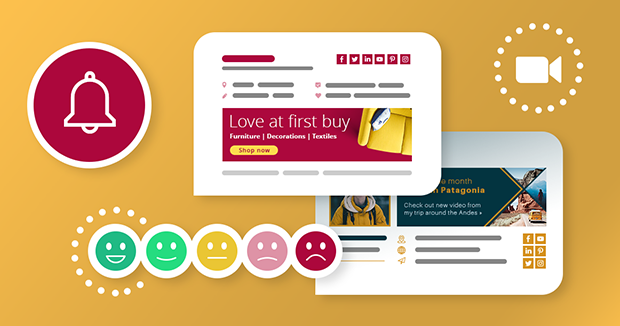 The year 2023 is already in full swing and you want to use the momentum to keep things fresh. A small step towards that goal might be updating your email signature. If that's the case, you might be wondering what email signature designs are trending and where to find inspiration.
Don't worry, we've got you covered. In this article, we've put together some examples of best email signatures for 2023 to spark your imagination.
Trends in email signature design in 2023
Email signature design is constantly evolving. The last time we took a close look at modern trends was in 2020. Three years don't seem like much and it's true that the same core principles of esthetics still apply. However, there are some interesting new trends (the 2023 buzzwords are #inclusion, #tweetlike, #charity #csr #csat) in the current email signature designs which you might want to incorporate into your signature. To get a better understanding of how an email signature template should appear nowadays, have a look at the collection of contemporary email signature inspirations below.
Streaming & vlogging
If you are a streamer or a vlogger who wants to promote their channel, check out email signatures below. Such signatures don't only sign off your emails, they showcase your content & grow your followers. Whether you are a streamer, a vlogger, or both, you can use an email signature to highlight your streaming accounts.
Inspiration 1
This eye-catching email signature example really draws attention with its neon colors and is perfect for a streamer. In addition to standard social media icons for Facebook, Instagram and YouTube, it also includes TikTok and Discord buttons, as well as a Twitch mini-banner. Even though the signature is packed with graphical elements, its two-column layout keeps all details organized.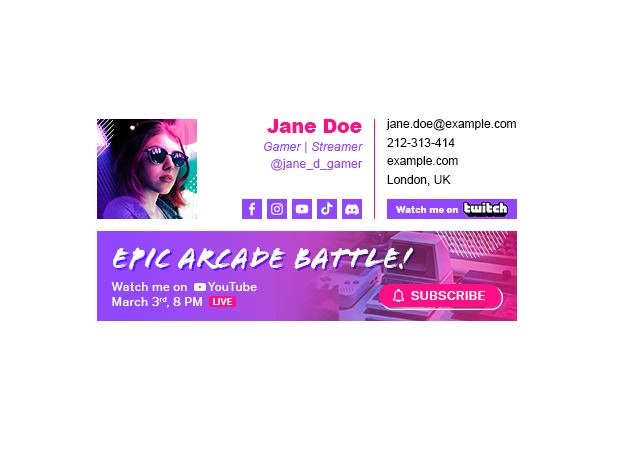 Inspiration 2
This email signature template is a perfect match for a vlogger. It's a toned-down design which will appeal to a different audience than the one above. Readability is crucial, therefore all elements are grouped for easy identification. The large banner at the top can link to your newest videos and the small banner at the bottom can take the recipients to your TikTok bio.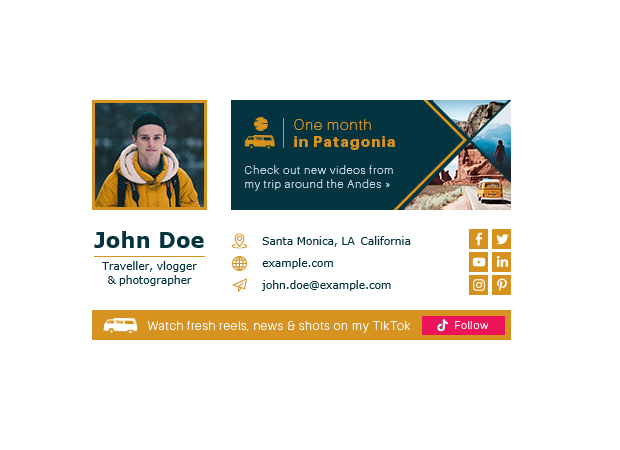 Download this free template or edit it in our email signature generator to personalize it
Inclusive design
An email signature typically contains your name, contact information, and other relevant details about you or your company. But it can also be a powerful tool to communicate the organization's identity, values, and commitment to diversity and inclusion. By adding such information, you can make a positive impression on your recipients and build trust and rapport with them. This can also inspire others to be more inclusive and respectful in their communication and interactions. Many of 2023 email signature designs show that inclusion becomes more and more important.
Inspiration 3
One way to make email signatures more inclusive is to add gender pronouns. We've seen a major increase in such email signatures in 2023. This shows respect for people's gender identities and helps avoid misgendering. It also encourages others to share their pronouns and creates a more welcoming and safe environment for everyone. From a design perspective, it's best to add pronouns next to or under your name (as shown in the example below). That's where most people expect to find them. This signature inspiration also includes a direct Zoom link in form of a call-to-action (CTA) button to allow for quick video calls with you.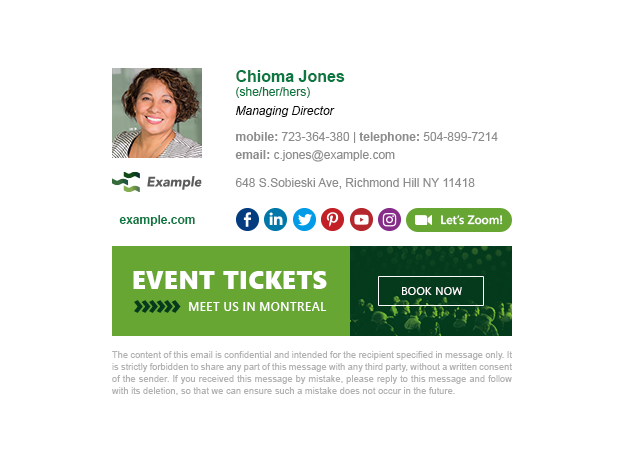 Inspiration 4
You can also make email signatures more inclusive by adding name pronunciation details. This helps avoid confusion or embarrassment in communication, shows the company's respect for people's names and cultural backgrounds, and fosters more positive and personal connections. The following email signature design includes a CTA button which you can link to an audio recording. Thanks to the toned-down design, this signature template is suitable for both personal and professional use.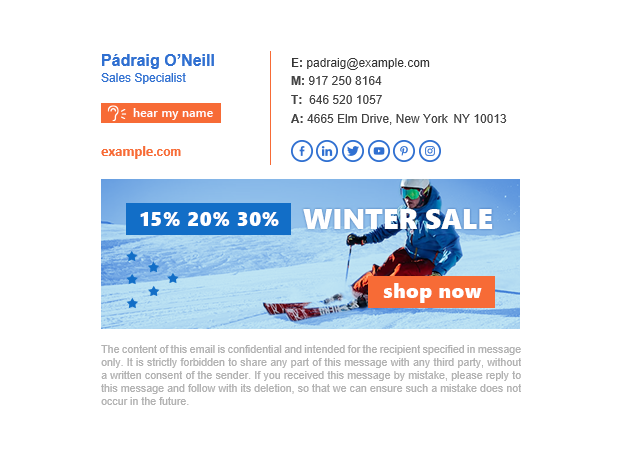 Download this email signature from our template library or edit it to your liking
Tweet-like signatures
Not all email signatures are created equal. Some can be too long, too cluttered, or too boring. Here's where tweet-like email signatures come into the picture. Those 2023 email signature designs are crisp, concise and catchy. Such signatures use minimal elements such as small logos, sometimes also small banners, and a few words to convey the essential information. They are inspired by the brevity and clarity of tweets, and they can make your emails stand out from the crowd.
Inspiration 5
Take a look at the email signature below. It's simple, compact and short. A perfect choice for business communication. It's certainly not lacking in any department, it includes: contact details, company logo, social media buttons, and even a small marketing banner. Everything is there, presented in a minimalistic form which can easily match your corporate style.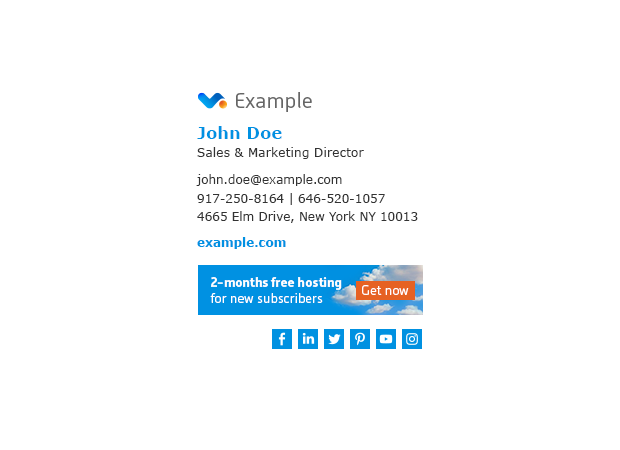 Inspiration 6
This tweet-like email signature is a great example of how less is more. Despite its small size, the signature still conveys all the essential details – contact information, linked social media icons and logo (or photo). It's a straight-to-the-point template which is ideal for replies, forwards, and internal correspondence.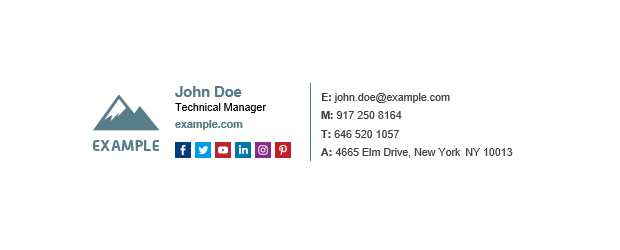 Adjust this email signature template to your needs or download it now
Charity-themed signatures
If you are running a charity or a non-profit organization, you know how important it is to communicate your mission and vision to your audience. One of the ways to do that is by using a tailored email signature that reflects your values and goals. Such a signature can also help you increase your visibility, credibility, and fundraising potential.
Inspiration 7
This original design includes a banner encouraging your recipients to make donations. You can also find a sample disclaimer at the bottom of the template. Although the signature's been primarily designed with charitable organizations in mind, you can replace the graphics to fit your needs.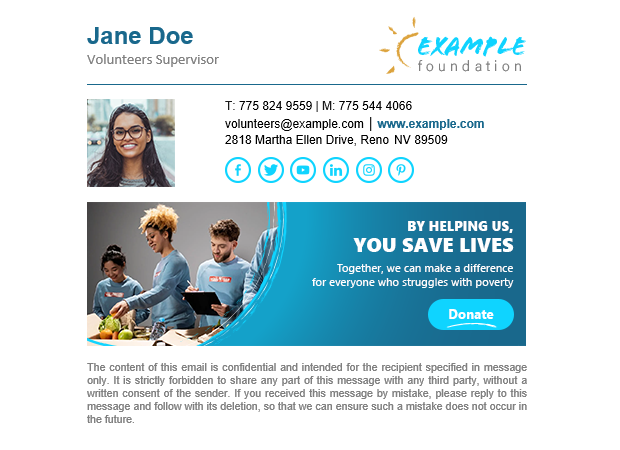 Click here to edit the template in our signature generator or download it right away
Corporate social responsibility & sustainability
Corporate social responsibility (CSR) and sustainability are two important aspects of any organization that wants to make a positive impact on the world. In 2023, many people look for companies that aren't all about making profit. An effective channel for showcasing the commitment to these values is email, and email signatures are the perfect place to promote your mission. They can be used to display information about the company's social and environmental initiatives, such as carbon footprint reduction, charity donations, ethical sourcing, etc. Such an email signature can help you build trust among recipients, motivate employees to share your vision, lead and innovate in your industry and society, and support causes that matter to you and your community.
Inspiration 8
A cleaner future requires both big and small actions. Email signatures can also contribute to the environmental efforts of any individual or organization. Vibrant shades of green used for the banner and the social media buttons make this design perfect for any company wanting to make a statement. Show you care about the environment and ask others to refrain from printing your message.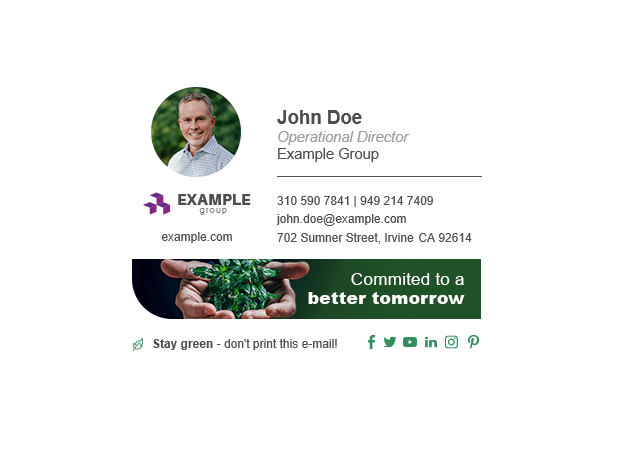 Download this signature template for free or edit it with the signature generator
Measuring customer satisfaction
Your image in today's world is shaped by what others think of you. People's opinions can lift or sink entire businesses. That's why seeking feedback on your products, services or marketing campaigns is essential. A simple way to learn what your customers think about your company is to use one-click customer satisfaction (CSAT) surveys in your email signatures. Those surveys are quick, accessible, and painless for the customers. That's why there is a major increase in CSAT surveys in 2023 email signatures.
Inspiration 9
The inspiration below is a great example of how to collect CSAT ratings. The template is designed to catch the recipient's eye with its contrasty, vivid colors (mainly Pantone's Color of the Year 2023 – Viva Magenta) and fancy icons. Additionally, the included banner boasts a catchy tagline. This appealing email signature can also be used from time to time to spice up the regular email correspondence and draw the recipients' attention.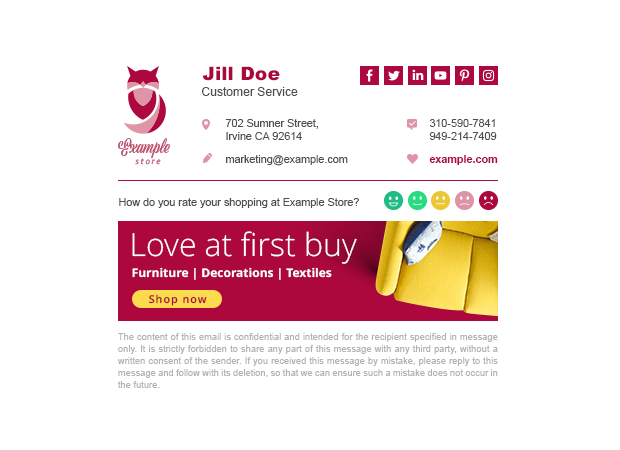 Looking for more inspirations?
For more email signature inspirations, explore our email signature generator and signature template library – they are completely free of charge.
Need an email signature solution?
If you need a solution for designing and managing corporate email signatures, have a look at our email signature management tools for both Microsoft 365 and on-premises Exchange. Our software will help you discover the true potential of your email communication:
Manage email signatures for the entire organization from one place.
Set up rules to add professional email signatures to emails sent from any email client or device.
Create sender- and recipient-specific email signatures.
Schedule email marketing campaigns.
Add one-click CSAT surveys to email correspondence.
Automatically add user photos to email signatures.
Manage automatic replies and out of office messages.
And much more…
See also: