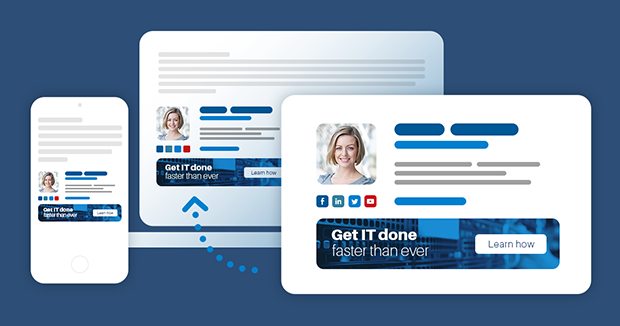 Managing brand image isn't easy. With thousands of emails sent every day, a company needs to make sure that all of them look perfect. Whether you're looking to promote your startup or strengthen a well-established brand, you should look for reliable ways to manage your email branding. Learn how to get consistent company email signatures on all devices in your Microsoft 365 organization.
Native methods to configure a company-wide email signature
If you decide to use the methods available natively in Microsoft 365, you have the following two options:
A mail flow rule that adds a company-wide signature centrally to all emails sent by your users. See how to configure it in the video below or read this article if you need more details.
With this approach, you can get a company-wide email signature, but due to limitations listed by Microsoft (and extended in this article), your promotion-oriented efforts might eventually turn out futile. For example, your recipients won't immediately see linked images (e.g. your logo) but only after clicking Download pictures; or your business email signature is likely to go unnoticed because it will be displayed at the very bottom of the email thread. Learn more
A native signature editor in an email client has some advantages over the centralized method, e.g. ability for your end users to preview or choose a signature. But, what's the most important, it doesn't let you easily apply the same company-wide signature or update it across all email clients and devices without a huge effort from you and your end users. Even though Microsoft rolled out the roaming signatures feature for Outlook, which lets you sync your signatures between your Outlooks, your signatures in Outlook for Mac/Android/iOS will still be separate. And there is still no way to manage those signatures reliably from one place.
As you can see, there's no easy nor perfect way to set up all aspects of your company email signature with built-in mechanisms.
The better way to implement a branded email signature for all users
Being aware of the native limitations, Microsoft recommends using a third-party signature management tool to handle email signatures in the context of a business organization. CodeTwo Email Signatures 365 is the solution you can trust, thanks to:
With CodeTwo Email Signatures 365, you can, for example, easily and quickly configure a unified email signature for your entire organization, on all email clients and devices, including mobiles.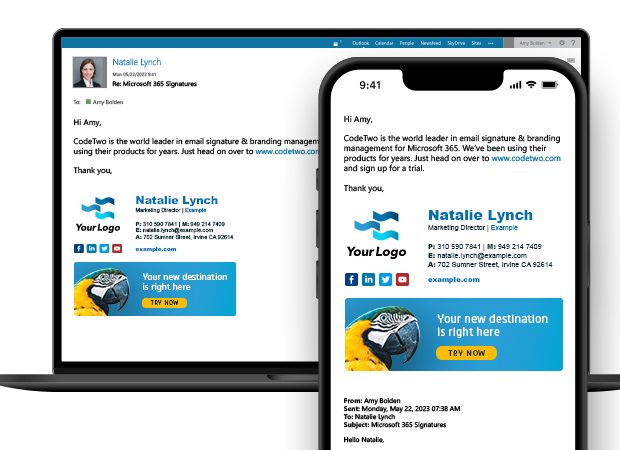 Are you using a mix of email clients like Outlook for Windows/Mac, Outlook on the web (OWA), Mozilla Thunderbird, Outlook for iOS, Gmail for Android, and so on? We've got you covered. Do your end-users send emails from PCs, Macs, iPads, Android-based phones, iPhones? No problem at all.

Simply set up CodeTwo Email Signatures 365 to work in server-side (cloud) mode, and next configure a uniform server-side signature for all users in your Microsoft 365 (Office 365). With such a configuration in place, the software will add your signature to every message that is sent from any end user's email address in your company, no matter if they send it on iPhone or from Outlook for Windows, for example.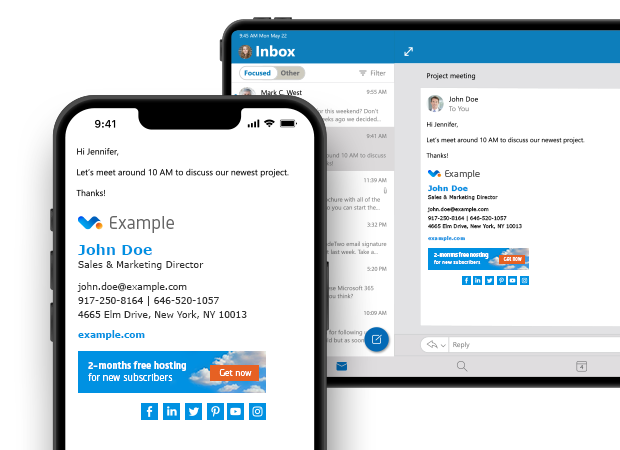 This approach is based on the same principles as Exchange Online mail flow rules (signature added in the cloud in transit), but, at the same time, it's free from all the limitations of this native solution. In other words, it's a win-win situation. See a step-by-step guide on how to set it up:
Learn how to set up universal, consistent & fully-branded business email signature for your organization
What if my end users want to see their signature before sending an email?
Cloud signatures are usually chosen because there's no way for users to tamper with them, potentially ruining your efforts to ensure consistent branding. But as they are added in transit, your users won't see them when they send emails. That's true about native solutions but not about CodeTwo Email Signatures 365!
Once you've deployed the CodeTwo Signatures Web Add-in for Outlook, your end users will be able to preview a cloud signature. Currently, the add-in can be used only in Outlook (Outlook for Windows, Outlook for Mac, and OWA, to be more precise) but as soon as Microsoft API allows add-ins to support more email clients, more clients will join the party.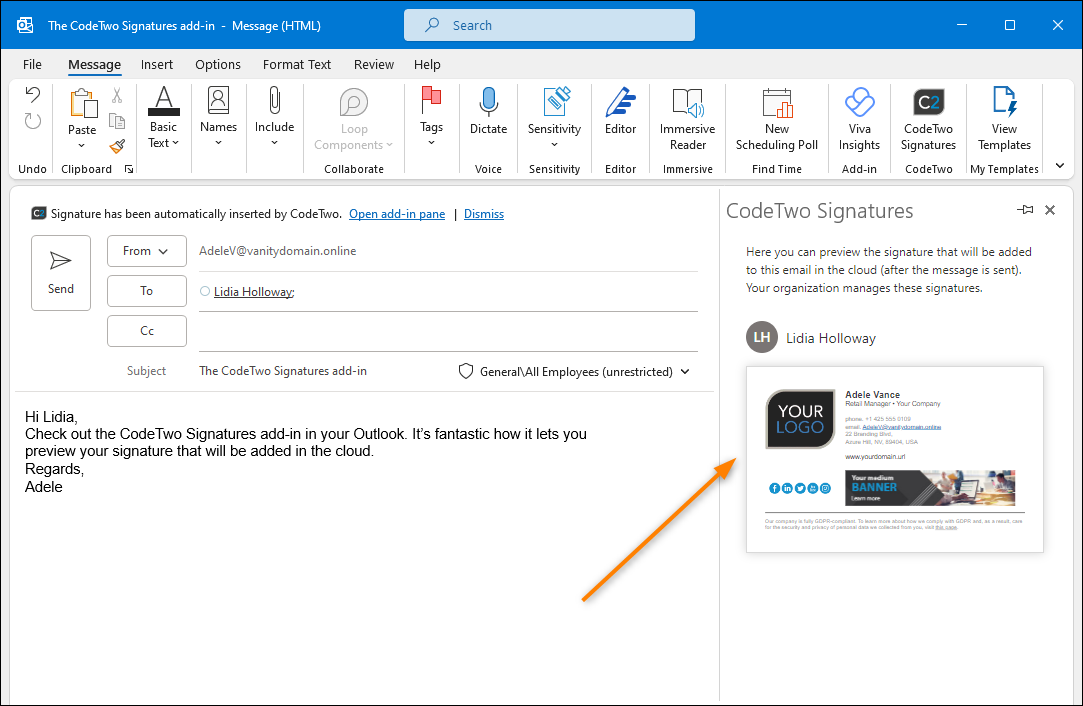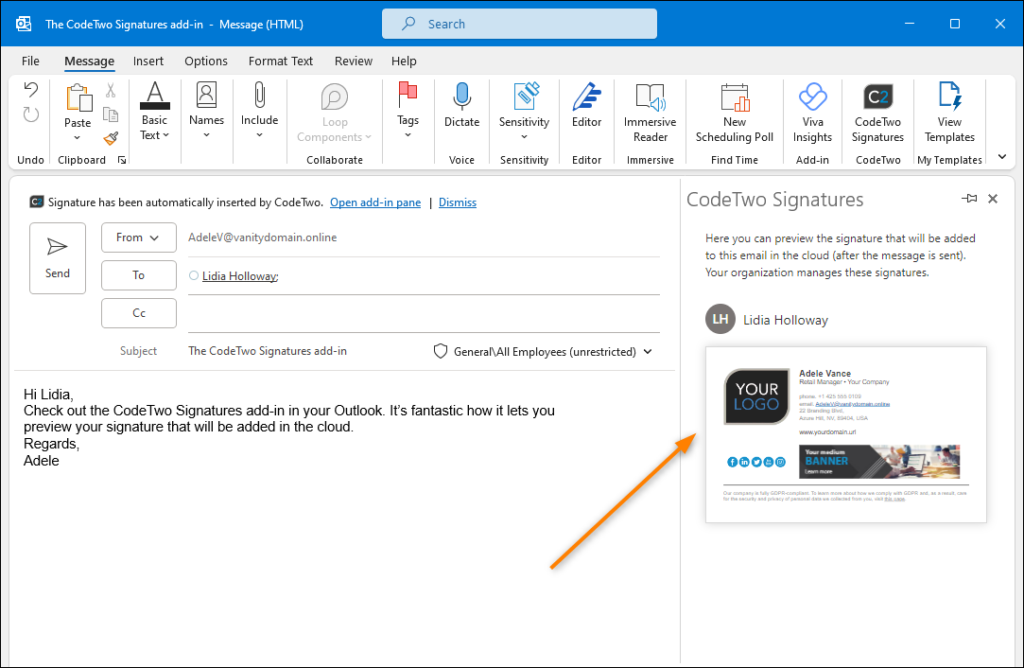 You can also go one step further by setting up the combo mode and letting your Outlook users choose which type of signatures they want to use – cloud or Outlook. An example? Let's assume that your marketing people might want to manually choose a signature that advertises a custom or seasonal offer. No problem – with the add-in, they can do it in Outlook in a few easy steps. After sending the targeted email, they can quickly switch back to the standard signature added in the cloud by using the toggle switch you can see in the picture below. And if you configure cloud and Outlook signatures for the same user, their emails won't be sent with multiple signatures – CodeTwo Email Signatures 365 is too smart for that. Learn more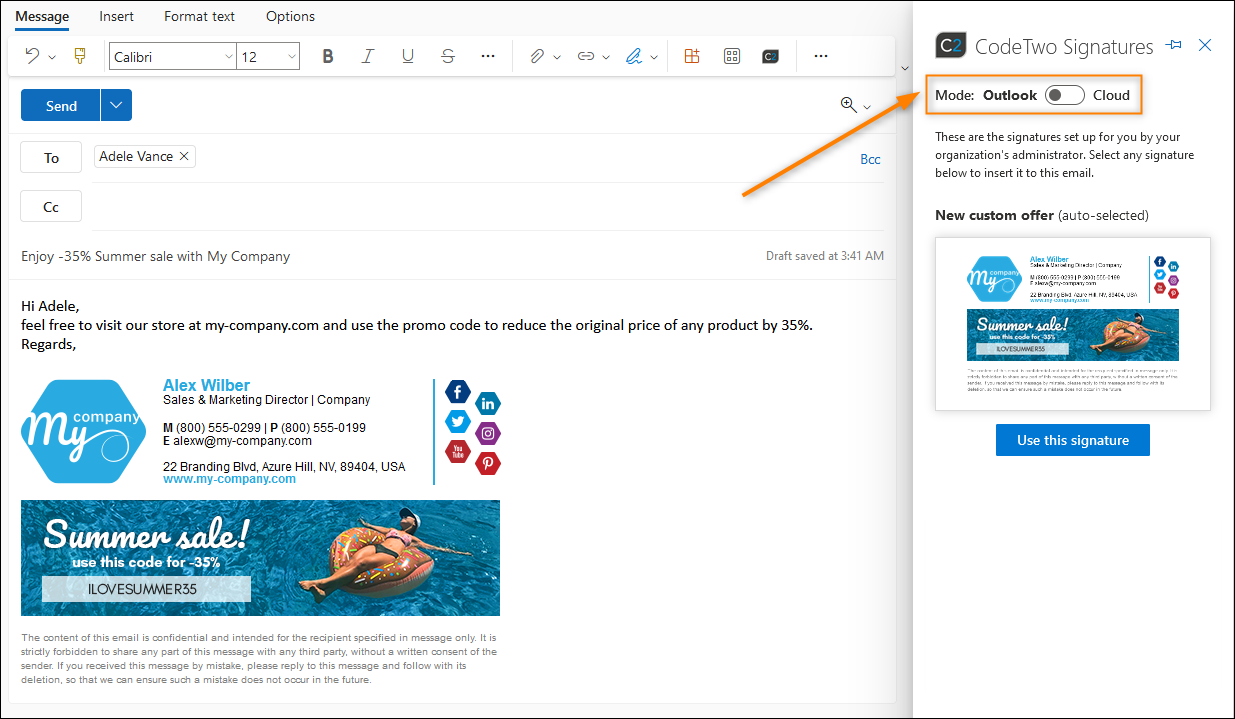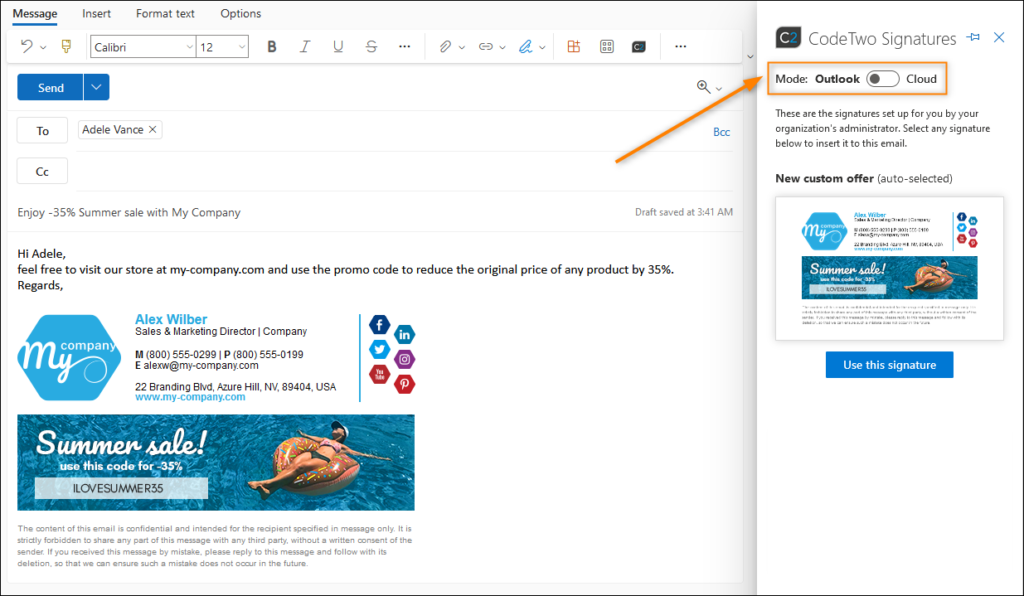 Tips & tricks for business email signatures and more
Consistent and branded company email signature is a great start, but there are some tips & tricks to make those signatures even better:
Insert signature under every user reply (rather than at the bottom of an email thread) to make recipients actually see it. Learn more
Use the fully-fledged version of company's signature in the first email and its compact version in subsequent replies to declutter email threads. Learn more
Make your signature interactive with IM apps links, customer satisfaction surveys, etc. Learn more
If you're hungry for more email-signature ideas, feel free to visit this website where you'll find the complete list of interesting use cases.
To learn more about CodeTwo Email Signatures 365, have a look at these video tutorials or consult user's manual for even more details.
If you haven't used CodeTwo Email Signatures 365 already, sign up for a free trial and test the tool without any limits for 14 days to see if it meets absolutely all your needs and expectations.