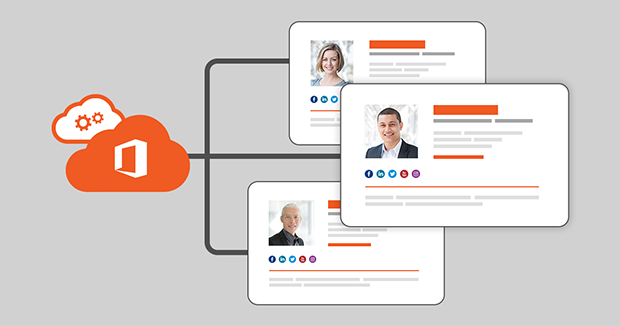 [Update]: This blog post was updated on March 17, 2021.
In this article, you can find out how to set up your own server-level automatic email signature or disclaimer in Office 365. Like most of today's email signature solutions, it supports HTML content such as tables, images and font formatting, but in contrast to e.g. Google Workspace (G Suite), it also allows for automatic personalization of individual signatures. However, there is no option to e.g. insert the signature directly below the latest reply/forward, or preview it in the user's mailbox.
How to set up a global email signature in Microsoft 365
Since this article was published, the Exchange admin center has been redesigned in Microsoft 365. Although the basic functionality of mail flow rules hasn't changed drastically, the UI looks different. That's why we've created a new step-by-step video which shows:
How to set up an email signature rule in the new Exchange admin center.
Where to get the HTML code with AD placeholders for the signature template.
How the global email signatures work from the user's perspective.
What the limitations of signature rules are.
What tricks you can use to make the signature-adding-rule more useful.
How to set up an email signature in Office 365
The steps below show how to set up a global email signature in the legacy Exchange admin center.
Log in to the Office 365 portal using an Exchange Online administrator account and access the Microsoft 365 admin center.

Expand Admin centers and click Exchange.

Continue reading