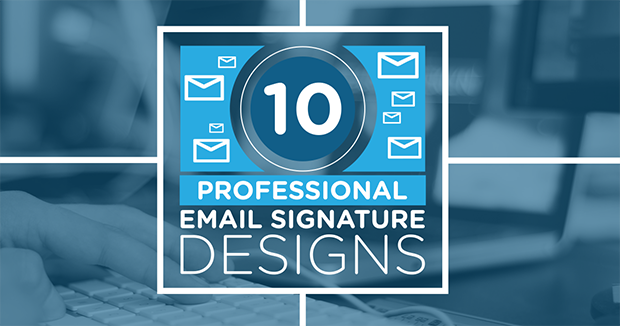 An average user sends close to 200 business emails every week. But emails, apart from being a form of formal communication, have also become a vehicle for marketing and branding campaigns in which visual content plays a key role.
In the center of these new strategies is, of course, the email signature. Nowadays it contains not only basic information about the sender, but also advertisements, banners, information about products, services and events… And simultaneously, it has to reinforce the company's corporate identity.
This blog presents ten inspirational concepts of email signatures. The designs were created using the signature template library included in CodeTwo Exchange Rules Pro, a dedicated email signature manager for Microsoft Exchange Server 2016/2013/2010/2007.
Classic bottom email signatures
Check out the simple layout and composition of email signatures included in this set. They involve basic details like information about the sender, company logo, social media buttons, links, banners, a legal disclaimer and some additional elements.
1. A classic example of a design with contact details and delicate graphical elements, clear and readable; conveys the most basic information about the sender.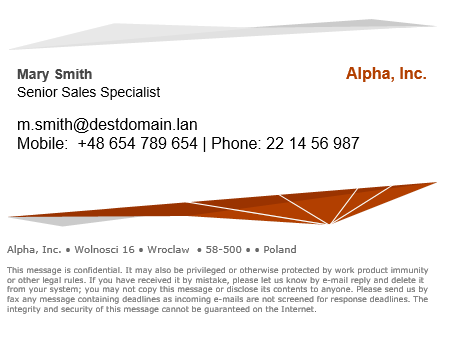 2. Additional elements (social media buttons and QR code) enable quick and easy contact through social media and let the recipient save company's or sender's data to their mobile device.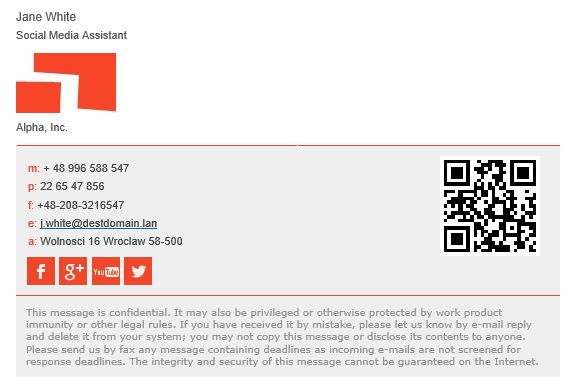 3. This design includes a nice touch in the form of a map of locations of company offices around the world.

4. Including a promotional banner advertising a product or service is a good way to achieve marketing aims.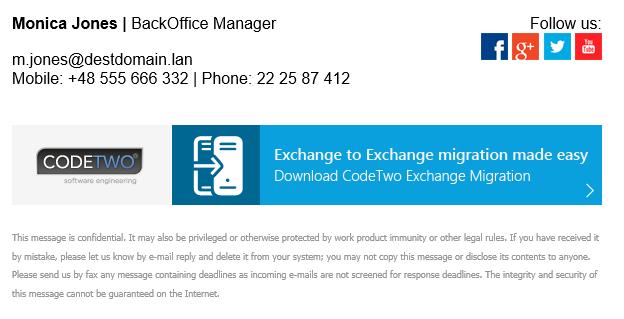 Bottom email signatures with photos
The next set consists of email signature designs containing personal photos and basic contact details.
5. A classic business email signature with a personal photo on the left-hand side. Very smooth and clear.

6. A similar design, but this time with the sender's photo on the right-hand side. The layout imitates minimalist business card themes.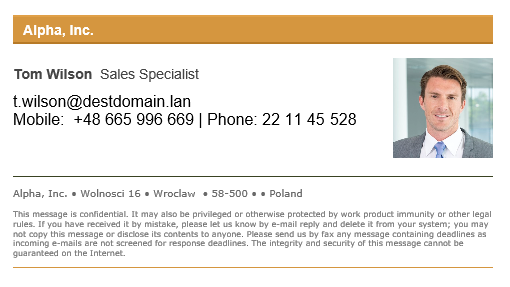 7. A nicely framed photo helps in building trust in contacts and enhances the visual quality of an email signature.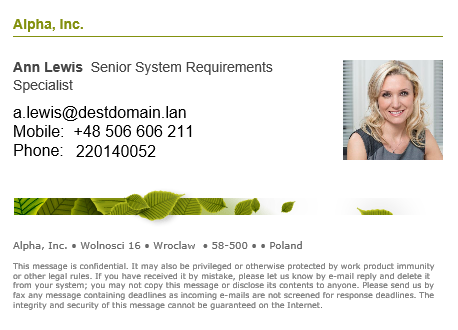 Top, bottom and side email signatures with banners, images and photos; perfect for marketers and sales specialists
Here are some more complex layouts with elements placed on top, bottom and side sections of an email. Such designs aim not only to deliver basic information about a sender and company, but they carry information about on-going marketing campaigns and events. By including banners and adverts for products and services, marketers turn email signatures into powerful marketing tools and enhance their campaigns.
NOTE: The below designs were achieved using CodeTwo Exchange Rules and may not be achievable in standard email clients.
8. Top and side marketing banners can convey information about the sender's company's actions and offers.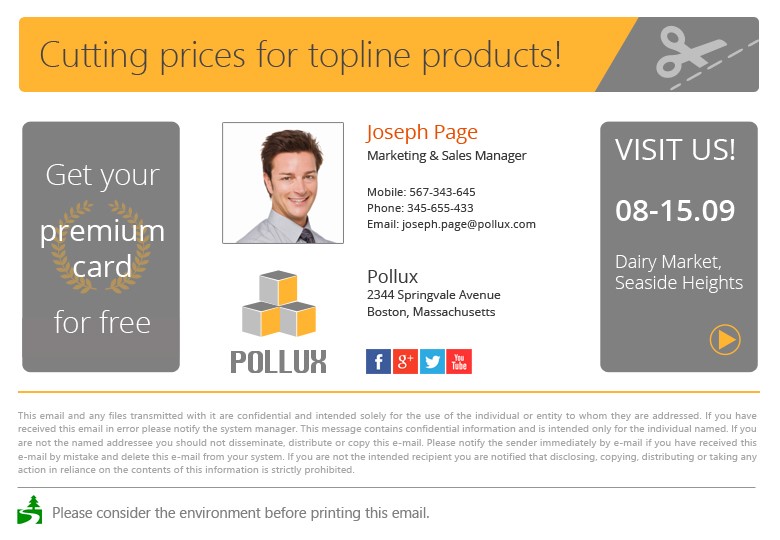 9. The next design contains extensive information about the company and sender. Layouts such as this one reinforce corporate identity and rejuvenate the image of the company.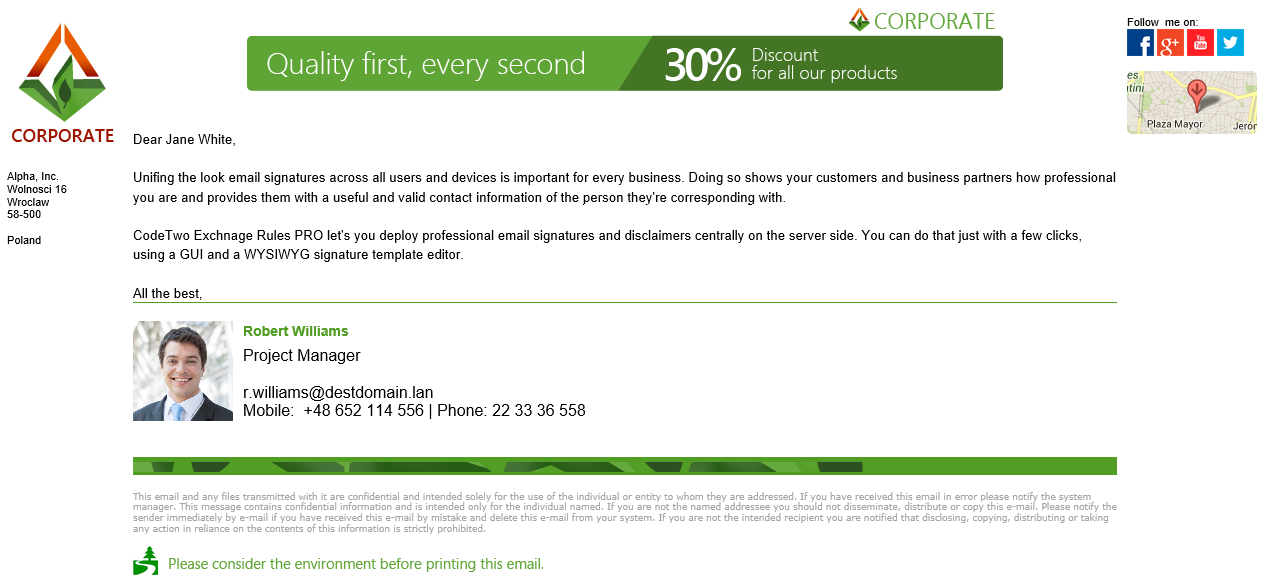 10. This layout completely reorganizes the content of the message. The logo and slogan are located in the header, personal details are placed on the left-hand side as a banner and a product offer is placed on the opposite side. The bottom is populated with immediate action buttons.

Start designing your email signatures
There are various ways you can create your own email signature designs. You can try to set them up using your email client's in-built tools, or by editing the HTML source of the signature directly. If you are not proficient in HTML code, you may want to use commercial or free signature generators available on the web.
However, if you are an email administrator working with Microsoft Exchange or Office 365 in your organization, make sure to check out CodeTwo email signature management software.
See also